Press
Harper's Bazaar, November 2012

Tatler, November 2012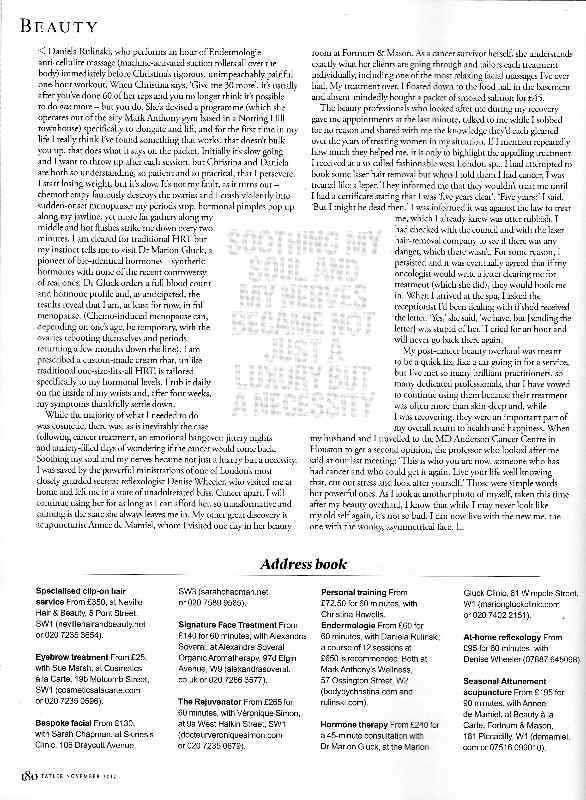 Stella Magazine, 28th October 2012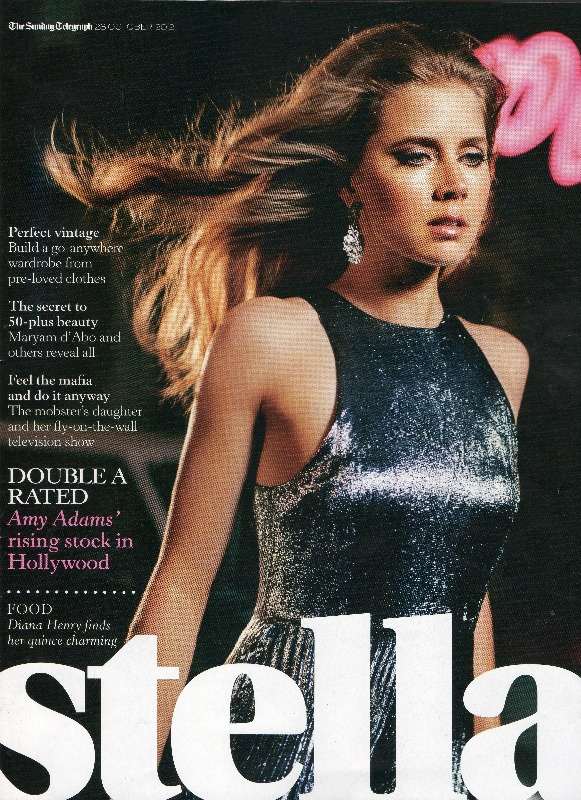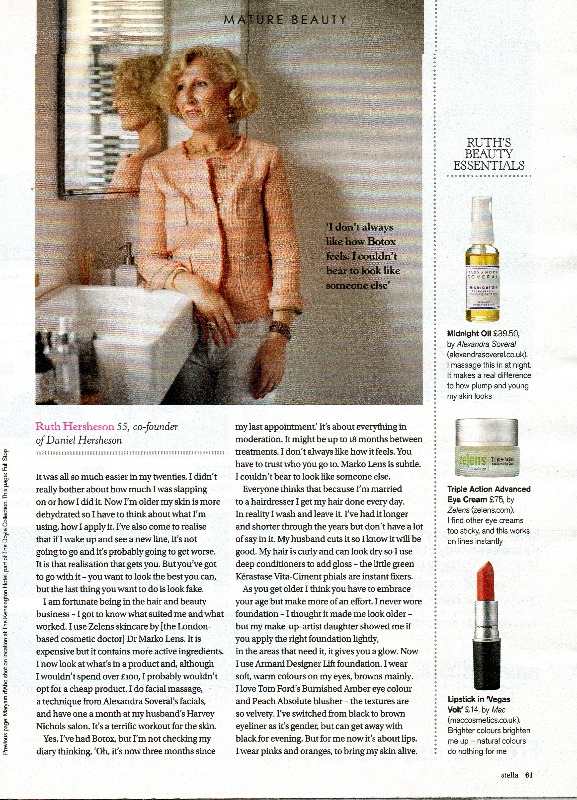 Glamour Magazine, October 2012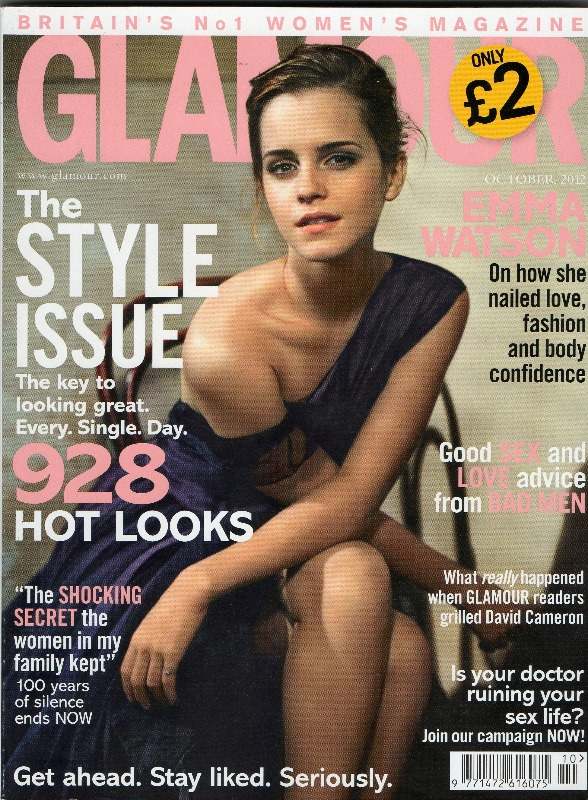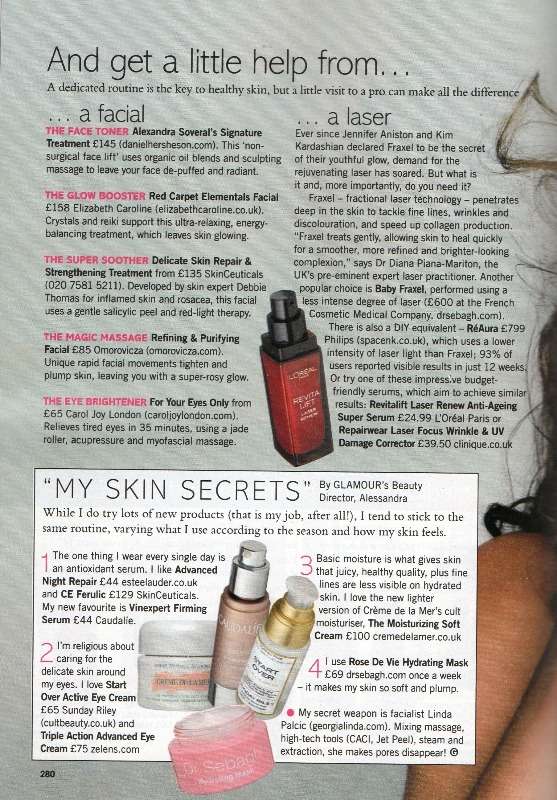 London Magazine, September 2012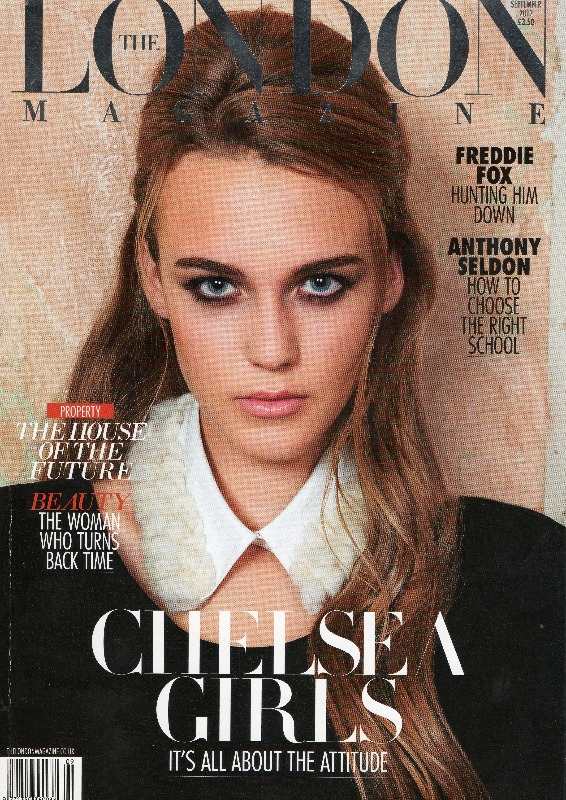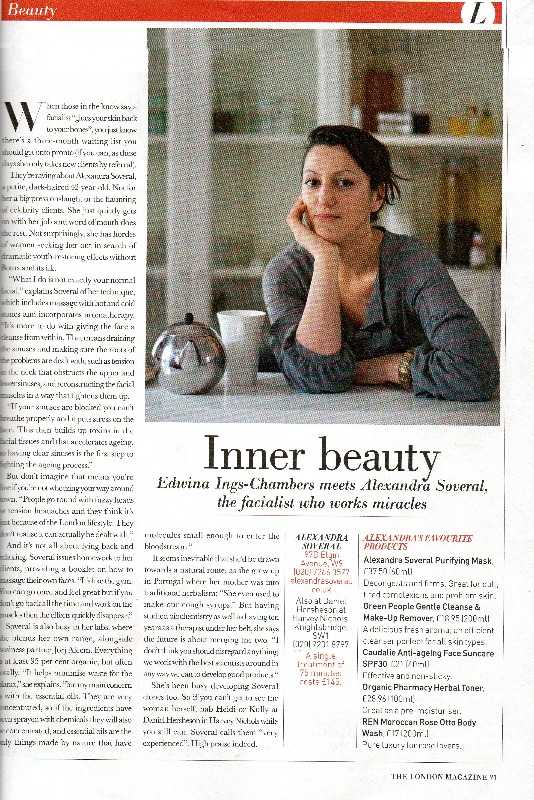 Stella Magazine, 9th September 2012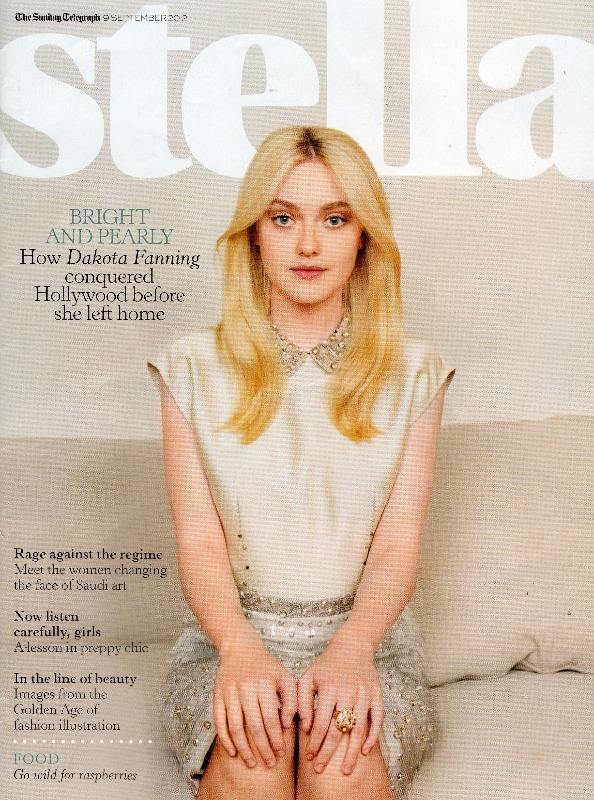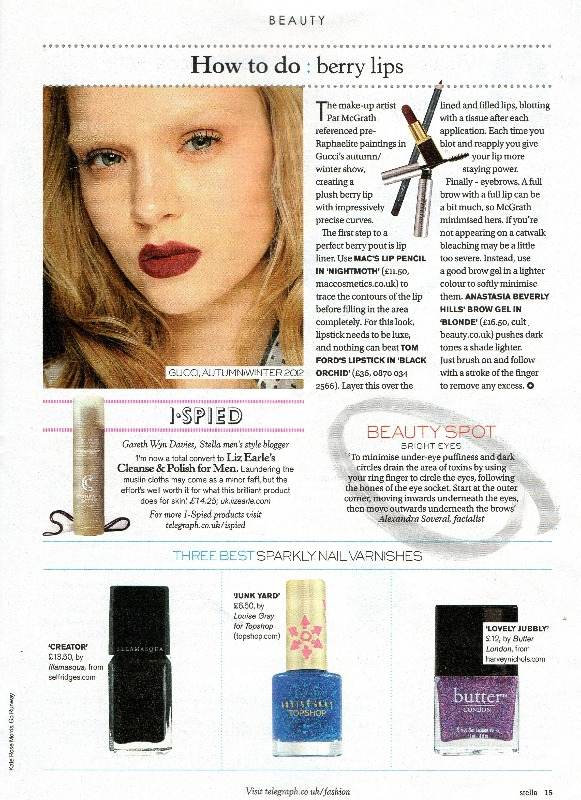 The Daily Telegraph, 2nd August 2012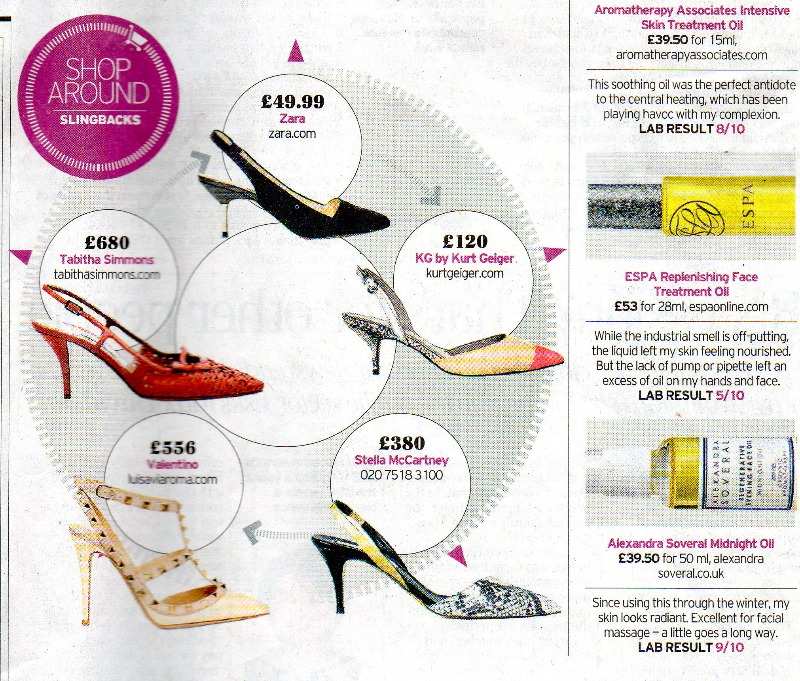 Stella Magazine 2nd June 2012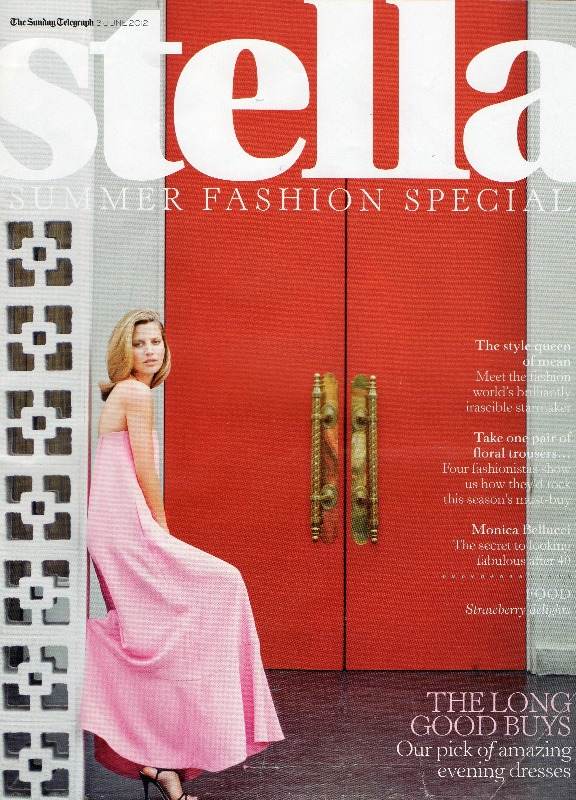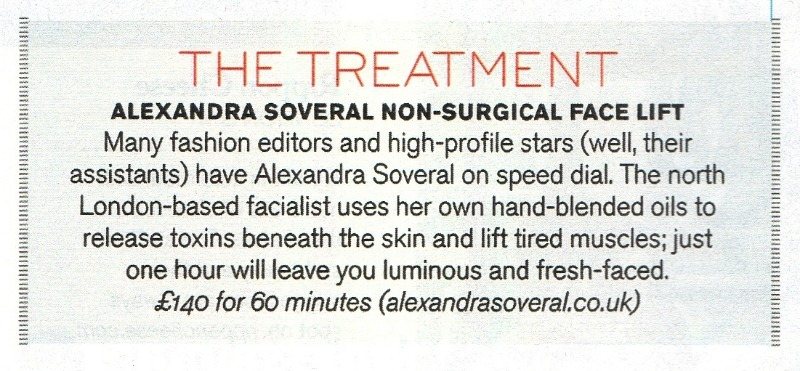 The Metro, 17th May 2012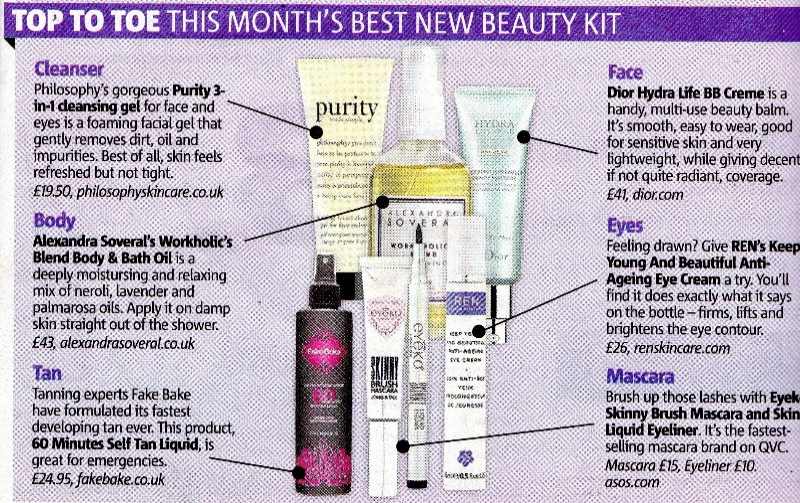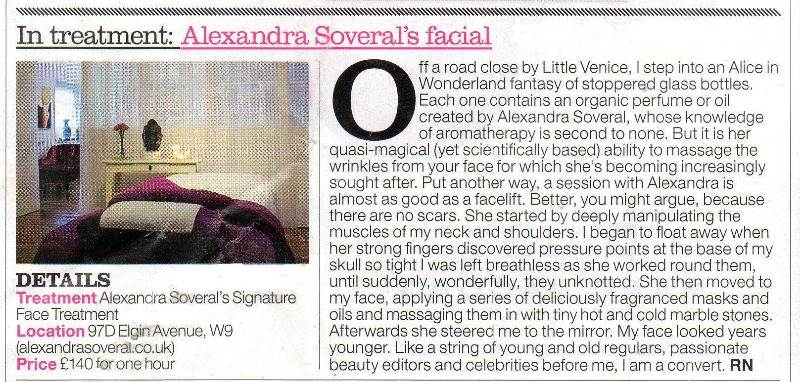 What's in my Handbag- Damaris, February 2012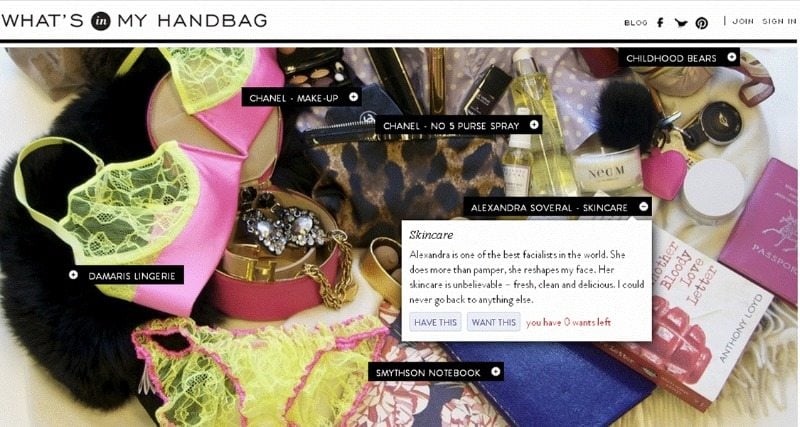 GQ Magazine, February 2012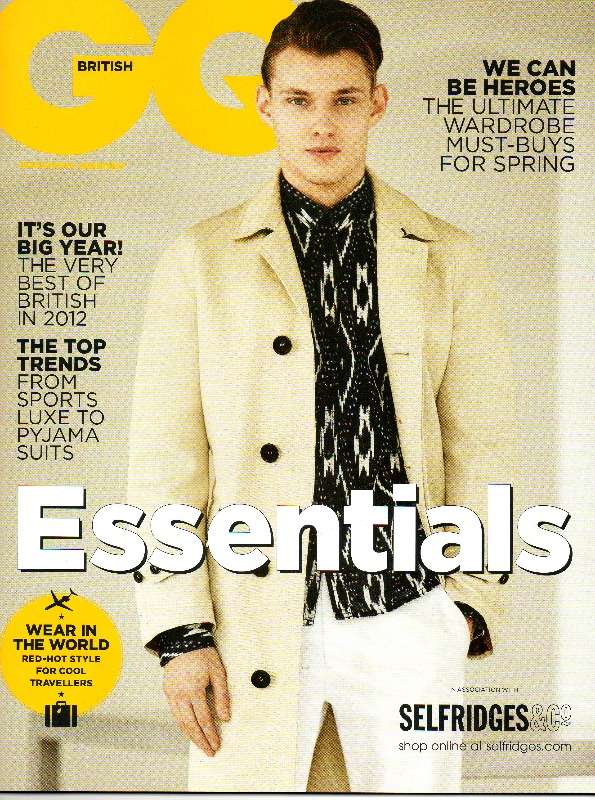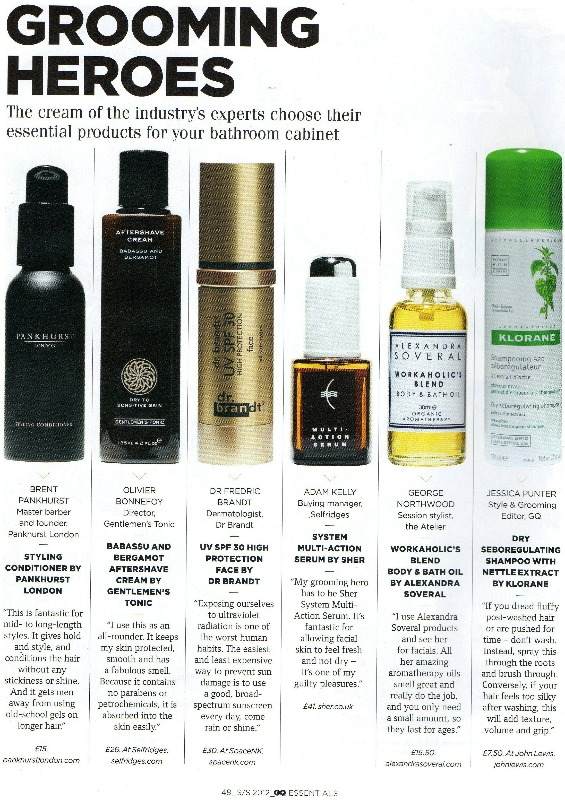 Tatler Spa Guide, February 2012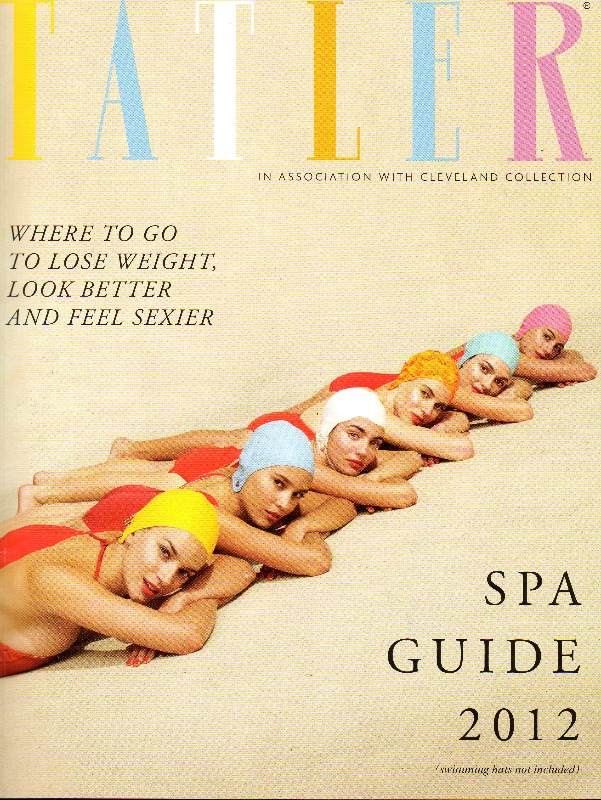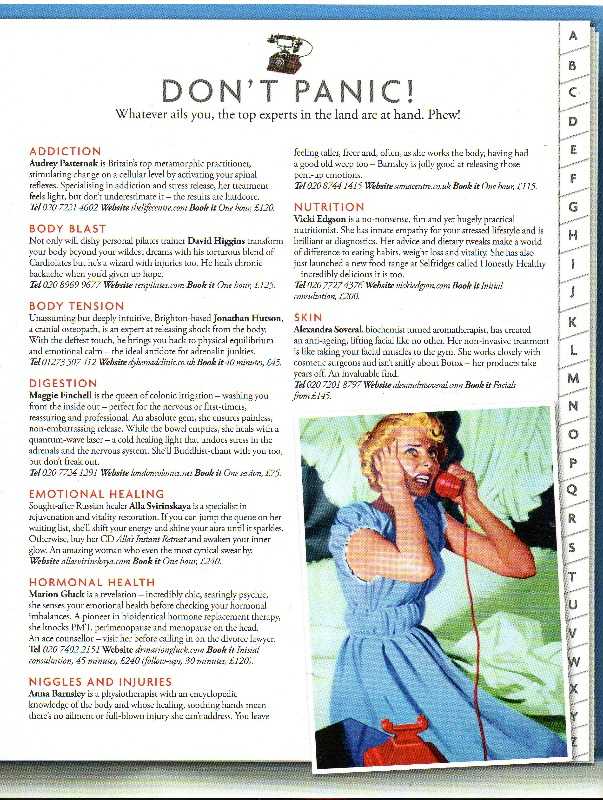 The Times, 30th November 2011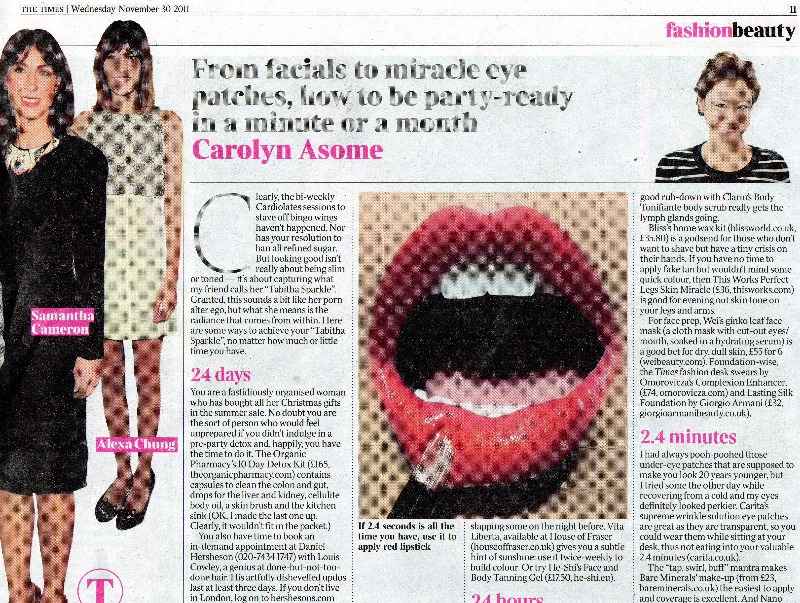 Red Magazine, November 2011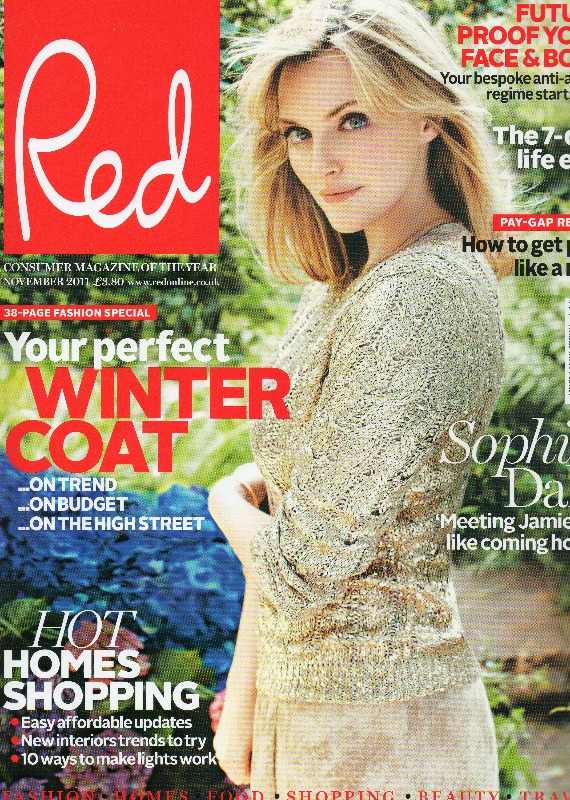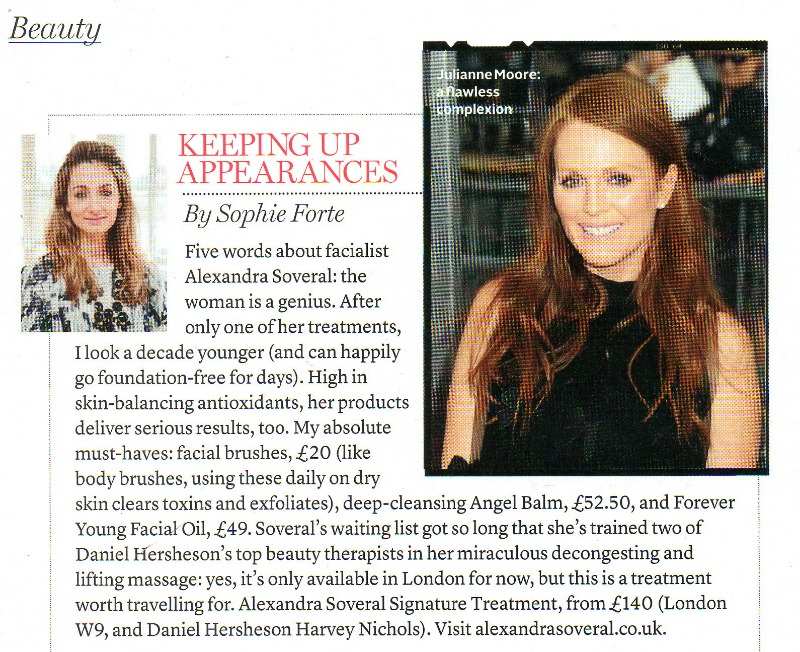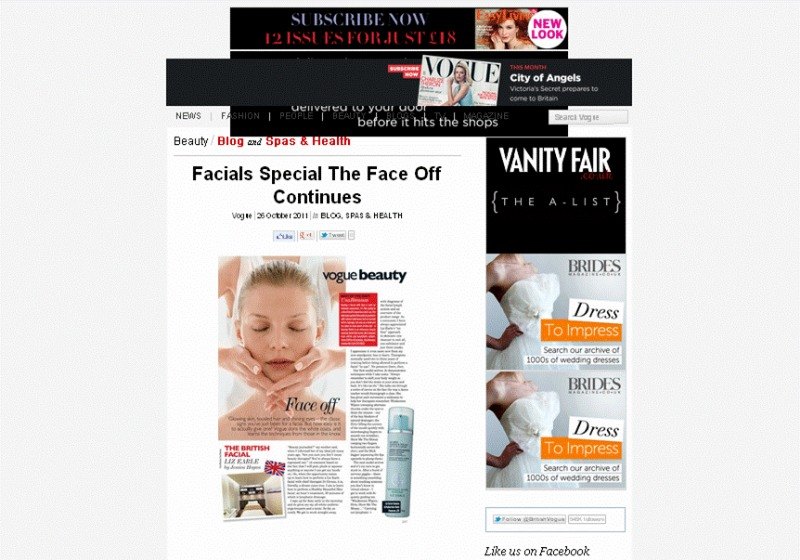 "Know that Sharpei puppy feeling yu get when you look down into a mirror? Run, do not walk to Alexandra Soveral. It's not the organic chemical free products as much as her background - physiognomy and anatomy - which make her a cut above any other fabulous facialist. Not to mention her exhaustive research with a plastic surgeon to find out what sags first. Is it as good as the knife? Quite possibly. And less hurty too."
Christa D'Souza, Vogue Blog, October 2011
Journal de Barcelos September 2011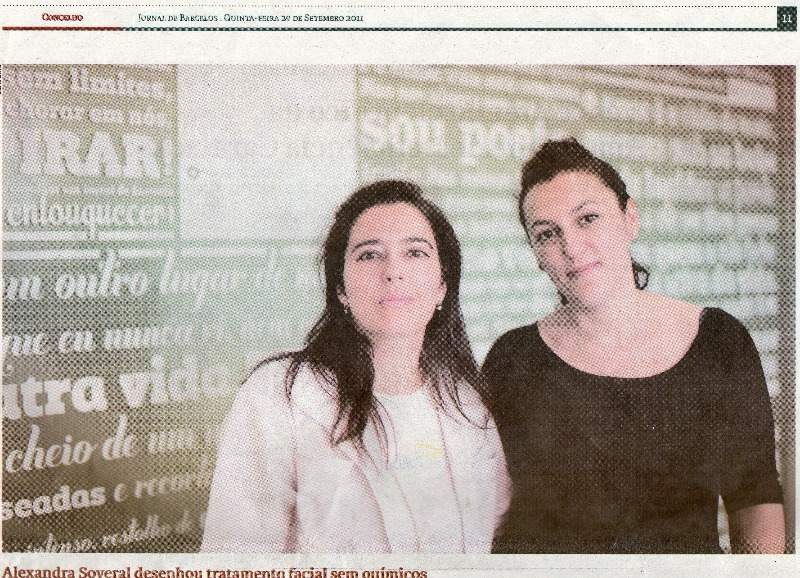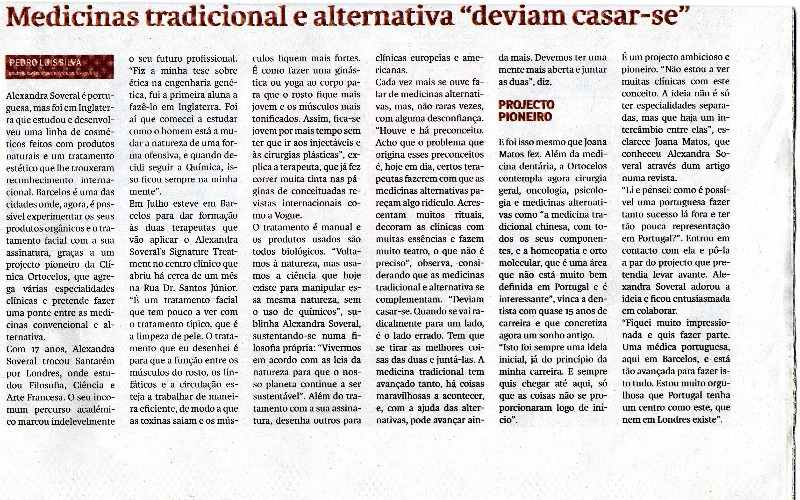 "

Alexandra Soveral's oils are made with such integrity and are so pure they also smell wonderful that just applying them in the morning and at night is a treatment in itself".
Lisa Armstrong, Fashion Editor, The Times
"Soveral's Angel Balm is a true hero product. Not only does this cleanser get rid of all the grime to leave skin feeling nourished, fresh and supple but it also doubles up as a soothing balm for lips, dry patches and cuticles" Carolyn Asome, Deputy Fashion Editor, The Times
PRESS HISTORY
April 2010


February 2010
Best Aromatherapy
Alexandra Soveral, London
Kick back and breathe easy with an aromatherapy massage from Alexandra Soveral, London.
The non-surgical facelift handles stresses and strains head on; through deep tissue massage and lymphatic drainage, you could get instantly toned, glowing skin that's as clear as your newly soothed mind.
Alexandra Soveral Organic Aromatherapy
http://www.harpersbazaar.co.uk/Beauty/Top-UK-Massage-Treatments/124267/gallery
December 2009
August 5, 2009
The Times
Our annual round-up of the best beauty products continues with the top 25 for your face and body
Alexandra Soveral Midsummer Dew Body Oil
A blend of essential oils that leaves skin feeling nourished and

doubles up as a body scent.
July 2009
August 12, 2008
The Times
Top 25 body care products
The Times fashion team pick the best body creams, bronzers and gels


Alexandra Soveral's Sleepy Head Bath & Body oil: A nourishing oilthat relaxes the body and calms the mind. Contains valerium,
which aids sleeping in a natural way.
The Times
Style and beauty fix: jackets, oil and christmasbaubles Christmas trinkets and gift ideas for the more discerning fashion follower. Even Miuccia, we think, would approve
There are all kinds of ways to deal with the 2008 blues, but none of them smells as nice as Alexandra Soveral's pick-me-up oil, with
uplifting and decongesting cardamom, peppermint and lemon. At £45 for 50ml, it's not cheap. Then again it's less costly than
Gordon Brown's solutions. And it multitasks as a body oil, bath oil and perfume.

VOGUE May 08
Article: The bottom line, page 218
Amongst other experts, Alexandra Soveral
was interviewed for this article on the war on cellulite.
May 28, 2008
The Times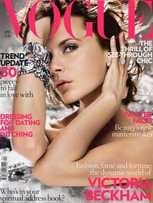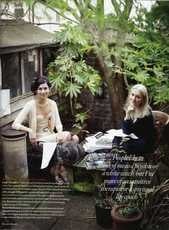 Article: Dial-a-guru, page 312
Alexandra Soveral is recommended for her treatments and oils" to rid the body and mind of toxins and negative energies."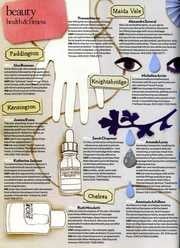 Article: FACE FACTS, page 168
Vogue recommends the best places in London for face
treatments. "...you get to choose your favorite oil before she starts
her
lifting
massage with sinus drainage."


December 12, 2007
The Times
Some 'hero products' are so good, we
stay faithfulto them for years. Here, the Times style team nominate their personal favourites
Alexandra Soveral
Workaholic's Blend
body oil
They say:
Neroli eases anxiety. It also has lemon to lift the spirits, lavender to balance emotions and geranium to beat negative feelings.
We say:
You get the point the moment you open the lid: the scent isso powerful, but not overwhelming or sickly. As an instant, legal pick-me-up, this is about the best on the market. It's moisturising and

you can feel it heat up as you rub it into the skin.

LISA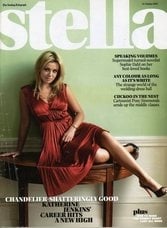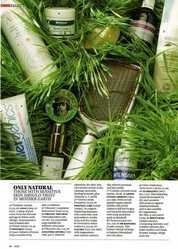 STELLA MAGAZINE, 12 October 07
Healing Oil "Ideal for extremely dry skin, this oil contains amino
acids, calming camomile, healing lavender, plus vitamins a, C and E"
July 2, 2007
The Times
Beauty jury: Organic Skincare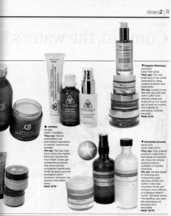 Article: Beauty Jury on Organic Skincare
7 leading brands were tested, Alexandra Soveral was given 10/10
"...Skin was smoother, firmer and contours more defined (a colleague asked if "work"
had been done). The labelling was clear, the packaging not excessive and recyclable."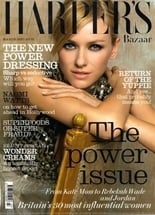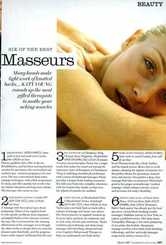 HARPER'S BAZAAR, March 07
Article: 6 of the best Masseurs
"... she's renowned for the amazing effectiveness of her massages...
and the gorgeous home-made organic oil blends that she uses."
THE TIMES, Times 2, December 06
Article: Beauty Jury on The most talked about launches of 2006
Spotless Treatment Gel 9/10
"This is a brillant product - it is pleasant to use, non-oily
and does eradicate spots."
THE TIMES, Times 2, April 07
Article: Beauty Jury on Eye enhancements
Forever Young Eye Treatment was given 10/10
"... the effects were amazing. The skin was clearer and softer,
the face more sculpted and sinuses hugely improved"